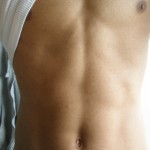 Jeff already knew for some time what eczema really was and the mechanisms of how it works, but frustratingly had not really fixed his problem… because he had not yet gone to the "deep end"… to the "last resort" people would rather avoid / not do / ignore…
Then boom! At around a month of UROTHERAPY and RAW PALEO DIET (with raw red meat and raw animal fat) came really fast healing. As Jeff pointed out, some 90% to 95% of his symptoms and overall health turned around for the best.
20+ years of suffering… and the key was just eating the original human diet… a RAW PALEO DIET. He did raw vegan, but had no success. His body needed RAW ANIMAL MEAT and RAW ANIMAL FAT… the super food that is available to everyone… if they opened their eyes wide enough.
If you are sick… PLEASE do a raw paleo diet immediately. Do not wait. It is useless trying to get well while avoiding raw animal meat and raw animal fat because you were taught a bunch of lies by the medical profession. Why suffer so long? Get well now! With any disease.  Stop matching disease to a specific treatment.  Real cures cure all.  Read Jeff's inspiring success story at: